2015-12-04 JO Hunter
Hey LEAH!!!!
We had a FANTASTIC time at the POCO Inn on Friday Night.
We had 56 people attend and everyone raves how great the food was and what an excellent evening it was.
Just wanted to say THANK YOU, THANK YOU….for all your help to make this evening such a success.
We have a scheduled meeting for later this week to review our party plans for 2016.
Look forward to talking to you soon!!
Again….our sincere Thanks for an excellent evening!!
Westcan Industries Ltd.
December 4, 2015
2015-12-03 Paige Petriw & Wendy Mein
On behalf of the Tri-Cities Chamber of Commerce, we wanted to send a huge thank you for your contribution to the success of last week's Christmas Luncheon! The afternoon event was a fun-filled celebration with over 100 prizes that were auctioned and raffled off. We had 250 members of the Tri-Cities business community come to celebrate the season and another great year.
The success of this event would not have been possible without every single generous donation we received. We are so appreciative of the continued support of all our donors, sponsors and event attendees. Because of your support, the Chamber was able to meet its fundraising goal, collect a large amount of toy and food donations for SHARE, as well as provide an opportunity to gather, celebrate and network within the community.
Once again, thank you so very much for your support. We wish you a very Merry Christmas and a Happy Holidays! May 2016 be a fantastic year for you and all your endeavours!
Warm Regards,
-
Paige Petriw & Wendy Mein
2015 Christmas Luncheon
December 3rd, 2015
2015-11-20 Jane Freeman
Hi Leah,
Please could you extend a big thank you to all your staff, both front of house and behind the scenes for hosting a great Christmas Party for London Drugs last Friday. The food was excellent and the service equally as good. Thanks also for allowing us to store the music equipment overnight.
Thanks for all your help in planning and making things run smoothly.
I hope the rest of your holiday season is busy and uneventful!
London Drugs Staff Christmas Party
November 20, 2015
2015-11-04 Marlisse McRobie
Hi Leah,
I just wanted to give you and the hotel's owners and/or managers a huge thank you from me personally (I'm sure my colleagues already expressed their gratitude), even though it is so late after the fact. Over the years your company has always gone above and beyond in supporting our annual event, and this year was no exception. I heard wonderful things from both my colleagues and the parents. Thank you for working with our budget limitations and helping us to create something of value for these parents, and helping to make the event go so smoothly from an organizer's point of view as well.
Much appreciation to you and your team!!
Parent in Residence – Tri-Cities Area Institute of Families for Child & Youth Mental Health DBA The F.O.R.C.E. in BC
November 4, 2015
2015-09-20 Tri-city Transitions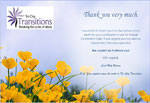 Dear Leah and Staff,
I would like to thank you from the bottom of my heart for your contribution in our 1st Annual Celebration Gala. It was a great success and we raised more than was expected. We couldn't do it without you!
September 20, 2015