2016-11-01 Carly Foster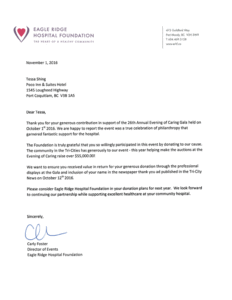 Dear Tessa,
Thank you for your generous contribution in support of the 26th Annual Evening of Caring Gala held on October 1st 2016. We are happy to report the event was a true celebration of philanthropy that garnered fantastic support for the hospital.
The Foundation is truly grateful that you so willingly participated in this event by donation to our cause. The community in the Tri-Cities has generously to our event – this year helping make the auctions at the Evening of Caring raise over $55,000.00!
We want to ensure you received value in return for your generous donation through the professional displays at the Gala and inclusion of your name in the newspaper thank you ad published in the Tri-City News on October 12th 2016.
Please consider Eagle Ridge Hospital Foundation in your donations plans for next year. We look forward to continuing our partnership while supporting excellent healthcare at your community hospital.
Sincerely,
Eagle Ridge Hospital Foundation
November 1, 2016
2016-09-16 Sylvia Russo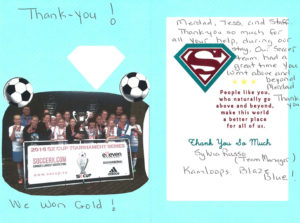 Dear Merdad, Tess, and Staff,
Thank you so much for all your help during our stay. Our socer team had a great time. You went above and beyond Merdad.
We Won Gold!
Thank You,
Kamloops Blaze Blue!
September 16th, 2016
2016-07-20 Lorelie Hughes & George Sciberras
Dear Stacey,
Please accept our sincere thanks for your generous donation of a hotel stay package for our Valentine's Day draw. With your help we were able to raise over $2000 for BC Children's Hospital!
Thank you for your support,
Save on Foods #957, Ottawa Street
July 20, 2016
2016-07-19 Sandra Battle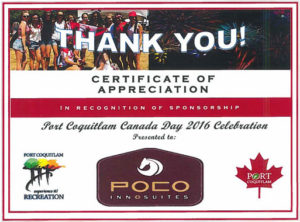 Dear Leah Que of Poco Inn and Suites,
It is with our heartfelt gratitude that we would like to take this opportunity to say THANK YOU for your generous contributions during our festivities. Please accept the enclosed certificate as a token of our appreciation.
Several thousand citizens gathered to share their pride in being Candaian, and to take part in the many festivities that were scheduled thoughout the day. Thanks to you and our other contributors, we were able to provide wonderful family entertainment and activities, as well as a magnificent evening fireworks finale!
Once again thank you for your generosity in helping make this year's Canada Day a memorable one for all who came and celebrated with us in Port Coquitlam!
Your Truly,
Canada Day Task Force
July 19, 2016
2016-06-21 Donna White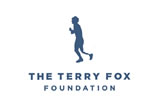 Dear Leah,
Saturday May 28th was another wonderful day for The Terry Fox Foundation as we hosted our Annual Run Organizer Workshop with more than 40 volunteers who traveled to Terry's hometown of Port Coquitlam from 18 different communities around our region. It was a day full of inspiration, laughter and a chance for everyone to come together and share ideas and meet their fellow volunteer Run Organizers.
We were inspired by the amazing work being done in research by the founding President and Scientific Director of the Canada-wide Terry Fox Research Institute presenting on unleashing the potential of the work they are doing to improve the outcome for young people with cancer. We heard beautiful and very personal memories of Terry from the nurse that cared for him from his amputation until his passing. We were enlightened by organizers sharing how the Terry Fox Run takes place in their community and a fantastic presentation was shared on the power of social media and how we can successfully use it to continue to share Terry's dream and his legacy in such a far reaching way! What a remarkable day for everyone who attended.
Every year, it is a privilege to host our workshop and thank our wonderful volunteers and show them the respect and appreciation they deserve for the thousands of hours they spend raising funds for The Terry Fox Foundation and cancer research. Your donation of accomodations for our out of town guests was deeply appreciated by everyone who had the pleasure of staying at your property.
I look forward to an opportunity to continue to work with PoCo Inn and Suites Hotel in pursuit of Terry's dream…a world free from cancer. I am deeply grateful for your support!
With warmest thanks,
British Columbia and Yukon
June 21, 2016